Popular
An Elegant Touch of Strings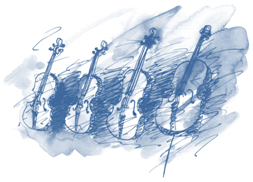 "We just wanted to thank you for the beautiful music played at our wedding. The string quartet added that extra special romance that we wished for. Everyone loved you and had nothing but compliments! It was a perfect wedding! Loved every second!"  -Thank you from the bottom of our hearts! M & J, 9/14/13 Pleasanton

Dear Sherry,

"So many things were happening yesterday, I didn't get the chance to meet you and properly thank you for the wonderful job you all did! I can't tell you how much we appreciated your guys' professionalism and talent. Our ceremony was wonderful and we have you three to thank. Best,
Michelle"  9/28/13 Mountain Winery, Saratoga

"Thank you for making our wedding so treasurable. Everyone came to me saying how beautiful you sounded and that it was a great idea to have you at our wedding. You played every song that I wanted and they wereperfect for the occasion." – Sincerely, Guy and Shala L.

"Thank you so much for the beautiful music during our ceremony and cocktail hour. You and your staff played beautifully and you all exceeded our expectations. You were a joy to work with throughout the planning process and made our wedding stress-free. We received so many kind words on you and your team. We are so happy we had you all play at our wedding. Thank you for being a part of our special day." Allison and Chris S., Palm Event Center, 10/14/11
Popular ~ Jazz Standards ~ Contemporary
Pops & Jazz Standards
A Time for Us ~ All I Ask of You ~ As Time Goes By ~ At Last
Autumn Leaves ~Beatles ~ Blue Moon ~ Blue Tango ~ Embraceable You
Fascination ~ Feather Theme (Forrest Gump) ~ I Only Have Eyes For You
It Had To Be You ~ Lara's Theme from Dr. Zhivago ~ Memory
Moon River ~ Moondance ~ Moonlight in Vermont ~ Music of the Night
My Heart Will Go On (Titanic theme) ~ Our Love Is Here to Stay
Oh! Darling(Beatles) ~ Pure Imagination (Willy Wonka)
Someone To Watch Over Me ~ Somewhere Out There ~ La Vie En Rose
Stairway to the Stars ~ Strangers in the Night ~ Suddenly from Les Misérables
The Man I Love ~ The Rose~ Unchained Melody ~ Unforgettable
What a Wonderful World ~ Wind Beneath My Wings
Suddenly Les Miserables ~ The Final Countdown ~ The Final Fantasy Ending
There's A Summer Place ~ Wherever You Go ~ Can't Take My Eyes Off You
I Will (Beatles) ~ Can't Help Falling In Love ~ Good Life
Everything I Do I Do It For You ~ La Vie En Rose
"THANK YOU, THANK YOU, THANK YOU. EVERY feedback was 100% positive. We could not have been happier with your contribution to our event. Most Sincerely, M.S." 5/3/13, Hakone Gardens

"The couple was truly thrilled and said it was the "wedding of their dreams!" Wedding planner for August '13, Mission Santa Clara

Contemporary
'Contemporary' means different things to different people. It can be the new latest, greatest
or an older revised tune. I'm frequently revising our lists.
A Time to Say Goodbye ~ Across the Universe ~ As Tears Go By
Game of Thrones ~ Marry Me  ~ The Book of Love Peter Gabriel
All I Want Is You ~ All You Need Is Love ~ Bittersweet Symphony
Clocks ~ From This Moment On ~ Here Comes The Sun
Butterfly Waltz ~ Leave Out All the Rest Linkin Park ~ Falling Slowly "Once"
Look After You ~Married Life from Up ~ Paradise Coldplay
The Way You Look Tonight ~ The Winner Is Little Miss Sunshine
Come Away With Me ~ Nobody Loves Me Like You Do ~ Only Time
The First Time Ever I Saw Your Face ~ The Love I Found In You
The Prayer ~ There is Love The Wedding Song ~ The Scientist ~ Viva la Vida
Secrets (One Republic) ~ Waltz # 2 Elliott Smith ~ When I Fall In Love
You Are the Sunshine of My Life ~ Skyfall~ A Thousand Years
Passacaglia Battlestar Galactica ~ The First Day of My Life
The Promise ~ With Or Without You ~ Love Train ~ All My Love
The Way I Am ~ Such Great Heights ~ See Beneath Your Beautiful
Falling Slowly ~ The Final Countdown ~ Hysteric ~ This Year's Love
"I just wanted to thank you and the other musicians in the string trio for such a great performance on Saturday. The selections fit the mood perfectly. Thanks again for a top notch performance" Ben M.,  St. Helena August, '11
"Great, great job last night! I had many comments on your beautiful playing and wonderful choice of repertoire; many were surprised and very pleased to hear not only the classical pieces but some of the show tunes and even some with a Latin feel.  Many expressed to me that they had never dreamed that a string trio could provide so much diversity. Well done!  Your music delighted the ear, touched the heart, and enhanced the evening for everyone.  And as always, the musicianship was superb. Many thanks!"  J.P.
We offer a wide array of styles
If you don't see what you would like then please ask for it's availability